October 22, 2021 - Online conferenceSpeaker at NFM21 - #NewOPV21
Jonas Bergqvist, CTO, will present "Laminated OPV for Indoor Light Energy Harvesting" on October 22 at 11:30 - 11:50 (CET) at the online symposium #NewOPV21 on NFM21 (nanoGe Fall Meeting 2021).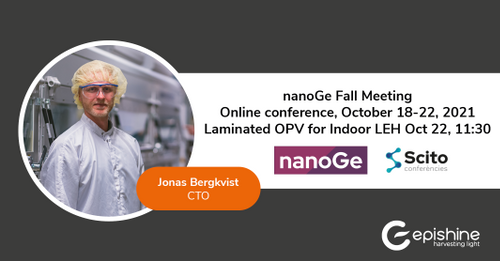 Organic Photovoltaics (OPV) is a promising emerging technology in photovoltaics, which requires only very little energy and thus CO2 emission for their fabrication, resulting in an extremely short energy payback time. Further, it does not contain any heavy metal elements and can be processed from green solvents. Additionally, thanks to the appearance of the so-called non-fullerene acceptors ( NFA) power conversion efficiencies in OPV have been raised to over 18% under simulated sun light and to over 26% under indoor lighting making OPV very most promising in the field of indoor applications.
This symposium will focus on characterization and modeling of state of the art devices to address the exciting questions about the working principles of organic solar cells and also to identify further optimization potentials. Rational material design for the photoactive layer as well as for interfacial layers will be discussed. Furthermore one focus will be on large scale processing based on new or improved printing techniques. Regarding the objective to integrate OPV into scalable commercial applications another focus will be on the long term stability. A special focus on new materials, device optimization and new industrial application in the field of indoor PV will be set.