Epishine is part of Europe's 37 leading deeptech companies selected by the EU to participate in their EIC Growth Club, created to support the companies to raise capital of half a billion euros
The Swedish company Epishine is one of 37 European deeptech startups that have been selected to participate in the EIC (European Innovation Council) Growth Club, an accelerator program dedicated to helping selected companies reach their growth potential. The program is funded by the European Union and aims to support the companies to raise capital of half a billion euros over the next 12 months, created to support the companies to raise capital of half a billion euros.
"Epishine was selected out of over 3000 EIC beneficiaries due to the high scalability potential of its solution, its existing track record, and the excellence of its management team" Bpifrance – EuroQuity.
Epishine has previously received funding from the EIC through a grant of €2.3 million through the Horizon 2020 program. Among the 3000+ companies that have undergone one of the EIC financing programs, the 37 most successful projects have now been selected to participate in the EIC Growth club.
The companies within EIC Growth Club will now receive extensive support to promote their growth plans and ambitions. "Deep technologies are already transforming businesses and society. EIC Growth Club is betting on the potential of 37 deeptech startups in digital, health and sustainability, to develop solutions that will positively shape our future economic, industrial and social activity." says Antoine Gourevitch, Managing Director & Senior Partner at BCG, one of the implementing partners.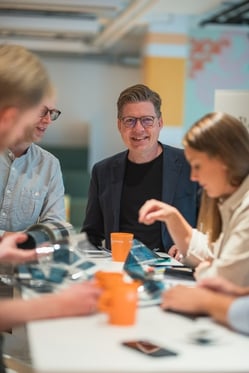 "We are very pleased to have been selected as one of Europe's most interesting companies that are combining deeptech with sustainability. Having the support and being connected to EIC Growth Club's strategic network of investors and partners will be of great value in our journey to reduce the global environmental impact." comments Mattias Josephson, co-founder and VP of business development at Epishine.
The EIC is a unique project within the European Innovation Council that supports the upscaling of some of Europe's best deeptech companies by bringing them together with a large number of investors and is in addition offering a portfolio of services to support their global expansion. The goal of EIC Growth Club is to take Europe to the forefront of the global innovation and new technology ecosystem.
ABOUT EPISHINE
Epishine is a leading developer and manufacturer of printed organic solar cells, committed to reducing global environmental impact by enabling innovative and smart technologies in meeting the demand for sustainable energy solutions.
Epishine's business is based on pioneering manufacturing breakthroughs. Their first product is a unique organic solar cell optimized for harvesting ambient indoor light and easily integrated into small low-power electronics. If you are interested in investing in Epishine, their next equity round is planned in early 2023.
www.epishine.com
Sign up for our press releases