Epishine launches its first revolutionary product and hires a CEO with experience in industrial scaling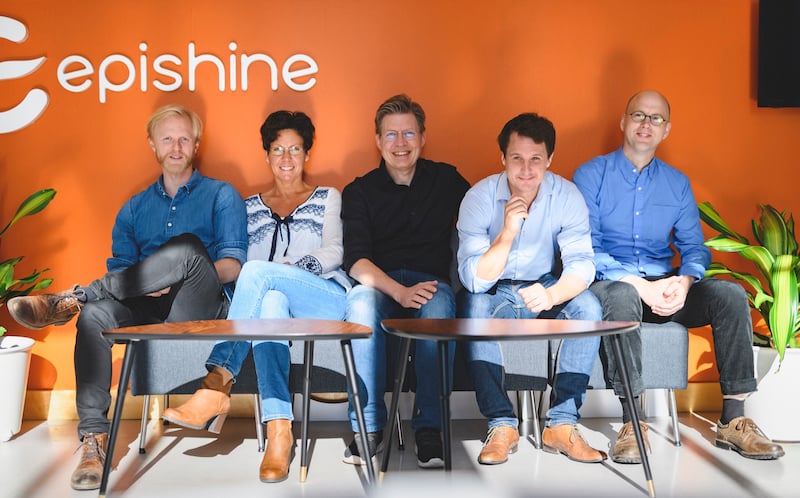 In a couple of months, Epishine will launch its first revolutionary product on the world market, a solar cell (or "light cell") optimized to power connected sensors and similar by harvesting low energy lighting. At the same time, they are preparing to start scaling up a new Swedish manufacturing industry by recruiting a CEO with many years of industrial experience.
After leading the company from a university spin-out to a scaleup, Mattias Josephson are passing over the baton as Epishine's CEO to Anna Björklou.
"I am proud and happy to be able to present Anna Björklou as our new CEO," says Mattias Josephson, co-founder and former CEO of Epishine. "I look forward to together with Anna take Epishine from production development to a large-scale green energy manufacturing industry."
Anna Björklou has worked in global manufacturing industrial companies all of her professional life, most recently as CEO of Swisslog-Accalon AB. Anna has a broad competence and many years of experience in development, industrialization, manufacturing and operational leadership.
"I am impressed by what Epishine has achieved with Mattias in the lead and look forward to being part of a continued growth journey together with a fantastic team! I'm very motivated to get involved in the upscaling of an innovation with such a large potential positive environmental and climate impact!" says Anna Björklou.
"Anna and Mattias will form a great pair," continues Epishine's chairman, Ola Johansson. "Mattias continues to work with business development and financing and Anna adds the industrial experience we need for the phase the company is entering now."
"We are releasing a revolutionary product at the same time as the electronics industry is switching to different solutions for 'energy harvesting' as an alternative to batteries. If we manage current momentum, we have strong conditions for becoming a world leader in the field," concludes Mattias.
Anna Björklou will take up the position as CEO of Epishine on October 1, 2020.

FOR MORE INFORMATION
Mattias Josephson
Co-founder / VP Business Development (former CEO)
mattias.josephson@epishine.com
+46 (0)703 133 177
Ola Johansson
Chairman of Board
ola.johansson@epishine.com
+46 (0)703 479 552

ABOUT EPISHINE
Epishine's business is based on pioneering manufacturing breakthroughs within printed organic solar cells. They have developed disruptive process steps that, among other things, provide a unique scalability in terms of manufacturing and a unique efficiency in low light.
Epishine's first product will be released in the next few months and is optimized for low energy lighting indoors. It's a small, thin and flexible light cell, printed on recyclable plastic and easily integrated into wireless products where it convert the ambient light into electricity. The light cells can be used instead of batteries on wireless sensors and similar devices in our increasingly connected world.
Epishine's long-term goal is to be in the forefront of printed organic solar cells and step by step enable the world's most scalable, resource-efficient and affordable solar cell. The company was founded in 2016 and has just over 20 employees with headquarters in Linköping and is mainly owned by a founding team together with renowned institutional investors and family offices. The next issue will be made in the spring of 2021.
www.epishine.com