LIGHT ENERGY HARVESTING WILL ENABLE IOT
Cut the number of disposible batteries
Maintenance costs for building automation and facility management needs solutions that don't require battery replacements.
The digital transformation pushes the need for such numbers sensors that solutions that avoid unreasonable battery maintenance becomes urgent.
Truly wireless is a must
Wireless data has created the first generation of smart buildings. To digitalise larger property stocks the problem of battery maintenance must be solved with some kind of wireless power.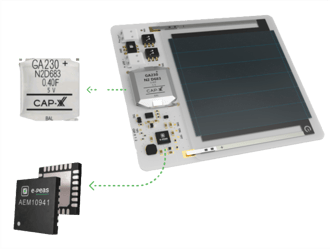 Use your indoor lighting for wireless power
With our indoor solar cells, you can power-supply sensors or displays by harvesting the light from ordinary indoor lighting – an almost magic solution to reach reasonable maintenance costs.
TEAM UP WITH US TO BECOME A LEADER WITHIN SUSTAINABLE IOT
You have the IoT
We have the magic power


Do you want to provide the IoT-technology that enables large-scale scattered deployments? We have a disruptive indoor solar cell and a very supportive mechatronics team.

Epishine's light energy harvesting cells are non-toxic, based on organic electronics and encapsulated in recyclable plastics. The thin, flexible cells can easily be integrated into typical plastic-based sensor / display housings.
Epishine's indoor solar cells are designed for ambient light from low energy lighting, optimized for the corner cases indoors when you have very little light to harvest.
The indoor solar cells are thin and flexible. They can easily be integrated into your sensors housing without adding any extra weight or space in the mechanical casing.
The form factor can even be used in rounded or curved surfaces for a modern look and feel. You can also design with different overlays for best look and feel.
Enabling a sustainable IoT-growth
Want to learn more or see it in action?
Fill out this form and Henrik Öhman will get back to you!